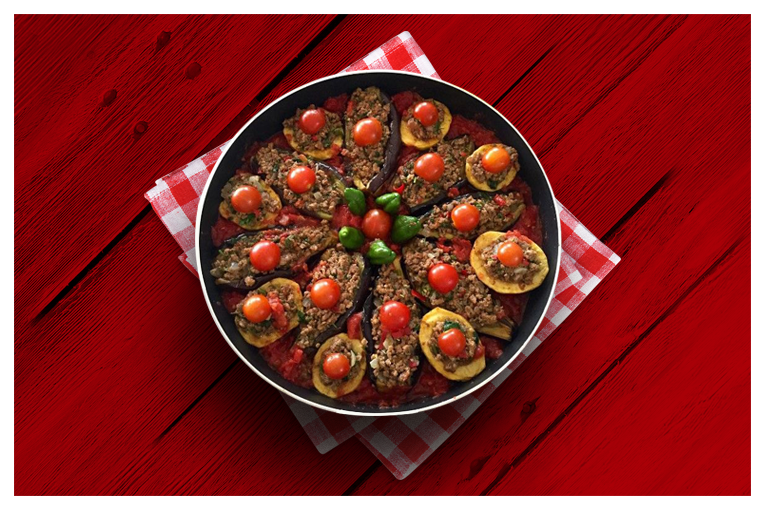 Dish Made of EggplantZade Stuffed with Ground Meat
Preparation:
Shorten the stem of the eggplants, peel the shells and draw them longitudinally.
Leave them in salt water for 20-25 minutes. Wash and dry. Put 1 cup of Zade sunflower oil on the pan and soften the eggplants and fry until the color turns.
Take the fried eggplants from the pan and put them on the napkins to get the extra oil. Add the onion and garlic to the hot oil and fry them steadily (if the sauce is thick enough). Add the mince and cook for a few minutes. Add the tomato cubes that you dug out and cook for a few minutes until the tomato juice is pulled. Take the pot from the oven, add chopped parsley, salt and pepper and mix. Put the fried eggplants on a tray and fill the mince in the middle of the eggplants with the aid of a fork. Decorate it with fried peppers. Mix 1 cup of broth with the remaining tomato juice and tomato sauce. Pour the sauce over the side of the tray. In the oven heated at 180 degrees, cook the eggplants for about 25-30 minutes until it softens. After pouring the food water, serve it.
Ingredients:
5 medium eggplants
3 tablespoons salt (to keep the eggplants in the water)
1 cup of liquid oil (to fry the eggplant)
2 medium onions (chopped)
3-4 cloves of garlic
300 gr of mince
4 medium tomatoes
A pinch of parsley,
Salt, black pepper,
1 cup of water or broth
1 tablespoon tomato sauce
Sign up for our e-newsletter, be informed about our new products and our content.